Capacity Tracker is a cloud-based digital insight tool built by NECS in partnership with NHS England that enables care home, home care, in-patient community rehabilitation, substance misuse and hospice providers to easily and quickly share vacancy and other critical information in real time.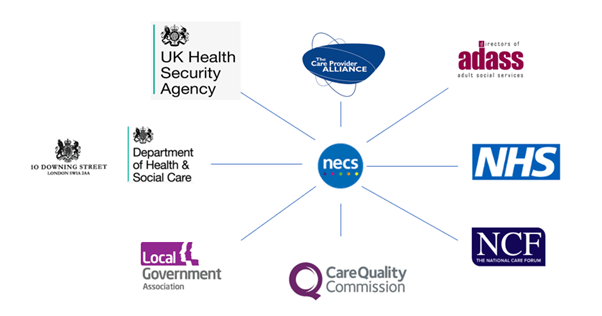 Capacity Tracker UK's functionality is simple to use and easily adapted cloud-based system that effectively collects and shares broader information from Care Providers across Health and Adult Social Care, i.e., infection monitoring, workforce and vaccination uptake. The system was instrumental in supporting the Department of Health & Social Care and NHSE Covid-19 response, collecting covid outbreak and PPE stock level information. 
Capacity Tracker is hosted on a secure Microsoft Azure Cloud platform and has the ability to consume and share information appropriately and widely using API technology supports the governments national data strategy by helping to reduce the burden on providers updating multiple systems with the same information.
Capacity Tracker has benefited a number of organisations to date, including: Oxfordshire County Council, Eagles Mount Care Home, Telford and Wrekin Council and Lancashire County Council.
The benefits
Capacity Tracker has 100% national coverage that provides a single data capture platform enabling provider vacancies to be quickly searchable by hospital and integrated discharge teams

 
This supports patient flow and improves patient care by helping to reduce the time taken to discharge individuals from hospital when they no longer meet the criteria to reside

 

Capacity Tracker collects other critical information which is submitted to government and other key Health and Social Care stakeholders to inform policy and planning decisions whilst being used by local authorities and stakeholders to target support where it is needed the most   

 

Sharing real time information across all key stakeholders encourages collaborative working and greater efficiencies across the health and social care system

 

Through dedicated regional teams working collaboratively with key stakeholders and providers the Capacity Tracker continues to be embedded as a system that supports improved ways of working

 

Where providers, commissioners and discharge teams work cohesively, confidence and assurance grow resulting in increased usage and the benefits that digital solutions can provide to improving patient care, being realised

 
Since July 2022 the Capacity Tracker is the national vehicle collecting monthly information required from Care Homes and Home Care organisations as part of the Adult Social Care Provider Information Regulations

 

Capacity Tracker is available on any internet enabled device with no IT infrastructure requirements, providing simple registration and rapid access that is available 24/7, 365 days a year   

 

Capacity Tracker is quick and easy to update with minimal training burden and is supplemented by a responsive Customer Support Centre, accessible by phone or email 

 

Capacity Tracker has an integrated resource centre and communication facility that makes supportive information to be more easily shared across circa 26,000 registered CQC Adult Social Care providers  

 

Capacity Tracker has a comprehensive analytics suite that provide strategic and operational market oversight and intelligence at national, regional and local levels

 
Capacity Tracker continues to evolve thanks to the input from health and social care partners and users of the system. By having close engagement with user groups, this enables the Capacity Tracker to meet the changing needs and priorities of its users.

 
Capacity Tracker saves us approximately five or six hours a week worth of telephone calls. This is not only a benefit to us, but also to the providers we work with as it reduces the volume of speculative calls the homes receive, allowing them to get back to delivering the care they strive to do.